In a display of solidarity and concern for their country, renowned singers Asim Azhar and Abdul Hannan have decided to postpone the release of their highly anticipated songs. The decision comes in light of the ongoing political crisis in Pakistan, where tensions have escalated, prompting the artists to prioritize the well-being of their nation over their music careers.
Asim Azhar had been preparing to unveil a collaborative single with a female artist, a venture that had generated considerable excitement among his fans. However, he took to his Instagram Stories expressing his hesitation to release and promote any new music while the nation faces turbulent times. Azhar conveyed his heartfelt desire for love and tolerance to prevail, emphasizing that as artists, their responsibility lies in fostering unity. He reassured his fans that the delay would be worth the wait, promising them a memorable musical experience.
"Dear fans, I know you all have been waiting for an update on the news single. But because of what's going on in my country [Pakistan], I don't think it's right to release and promote anything until everything is back to normal. As artists, we only want love and tolerance around each one of us. Praying for everyone. Stay tuned, I promise it will be worth it," he wrote.
Similarly, Abdul Hannan had been eagerly anticipating the release of his song Aankhon Aankhon Mein. However, the recent events unfolding in Pakistan have deeply affected him, leading him to reschedule.
"In light of recent events, the release has been postponed. Heart bleeds for the country and my people. Yearning for better times," he announced on his Insta Stories.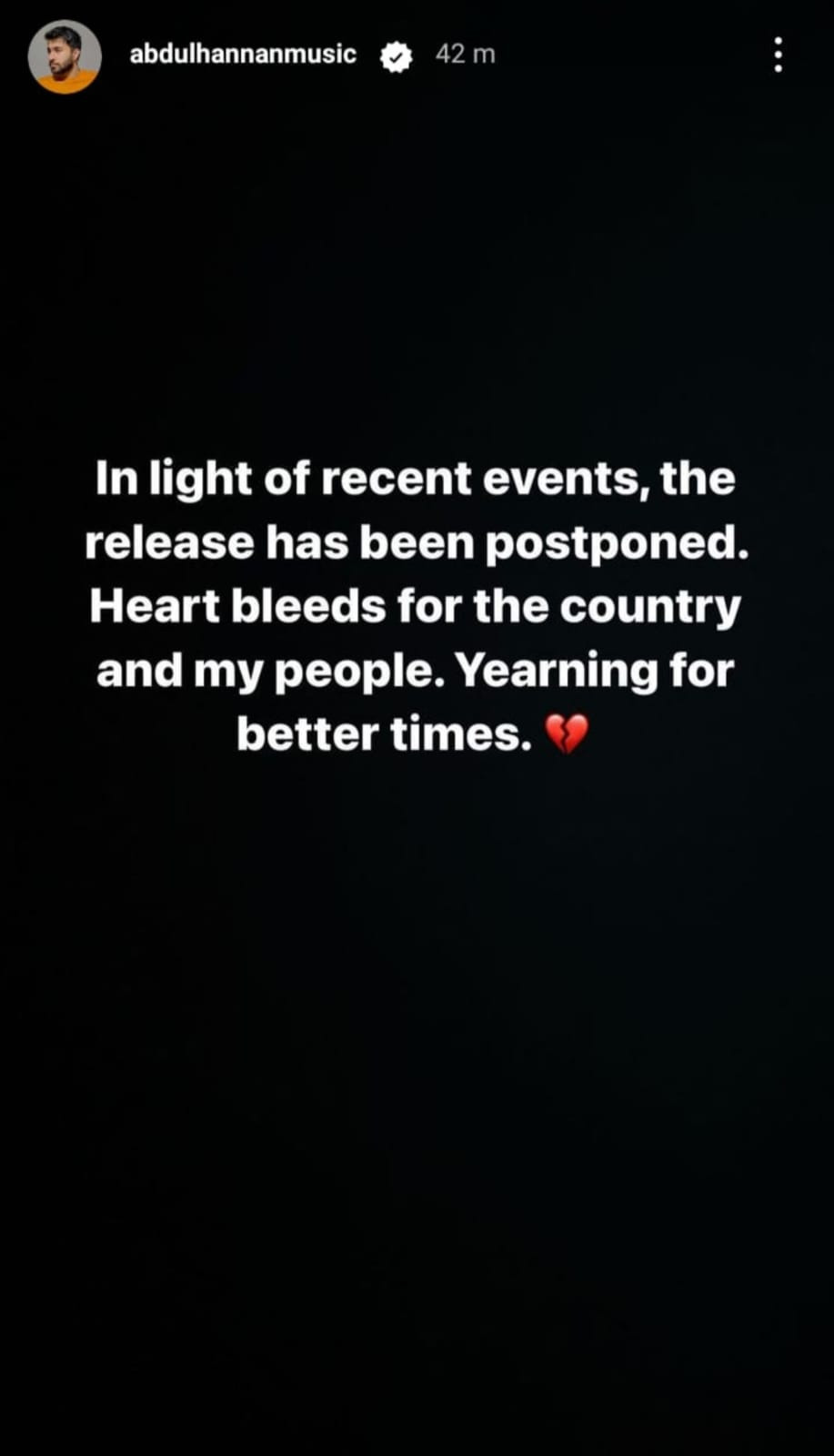 The decision of Asim Azhar and Abdul Hannan to postpone their song releases underscores their commitment to using their platforms responsibly. As influential figures in the music industry, they recognise the power of their voices and the impact their actions can have on society. By deferring the release of their songs, they aim to contribute to an atmosphere of tranquillity and unity, urging others to prioritise national well-being above personal ambitions.
Have something to add to the story? Share it in the comments below.