A New York City grand jury could begin weighing charges against a former U.S. Marine for the subway chokehold death of Jordan Neely as early as next week, a law enforcement source told Fox News Digital.
The veteran was captured on viral cellphone video holding the erratic 30-year-old homeless man in a headlock Monday on a northbound F train until he lost consciousness and died.
Neely, who suffered from mental illness, allegedly stormed into the subway car at around 2:30 p.m.and began yelling aggressively at other passengers.
"He said he had no food, he had no drink, that he was tired and doesn't care if he goes to jail," freelance journalist Juan Alberto Vazquez told the New York Post.
MARINE VETERAN IN NYC SUBWAY CHOKEHOLD DEATH FACES TOUGH LEGAL ROAD, EXPERTS SAY
"He started screaming all these things, took off his jacket, a black jacket that he had and threw it on the ground," said Vazquez, who filmed the deadly encounter. 
The former Marine came up behind Neely and took him to the ground, as two other passengers helped restrain the disturbed man, according to Vazquez. 
NYC SUBWAY CHOKEHOLD DEATH OF JORDAN NEELY PROBED BY 'SENIOR' PROSECUTORS AS PROTESTERS CLASH WITH POLICE
The 24-year-old veteran, whose name is being withheld by Fox News Digital wrapped his arm around Neely's neck until he went limp.  
First responders arrived at the Broadway-Lafayette Street/Bleecker Street station and tried to resuscitate Neely.
Thomas Kenniff, who represents the ex-Marine, stated that he had not been informed that there would be a grand jury meeting next week.
"We have no information as to the status of the investigation and no information indicating that the grand jury will be considering evidence in this matter," Kenniff said.
If a grand jury is convened by Manhattan District Attorney Alvin Bragg to consider an indictment, Kenniff's client would be entitled to testify in his own defense.
The city's Medical Examiner said Neely died from compression of the neck.
The tragic killing has sparked public outrage and deep divisions in the city.
Rep. Alexandria Ocasio-Cortez, D-N.Y., called the death a "murder" and criticized Mayor Eric Adams for not denouncing the veteran's actions.
DONALD TRUMP'S NYC CASE MAY BE HEADED IN ONLY ONE DIRECTION, FORMER PROSECUTORS REVEAL
Protesters marched across the Manhattan Bridge Thursday night, where one person was filmed spray-painting "Jordan Neely was lynched." 
Demonstrators also gathered outside Bragg's Lower Manhattan office Friday to demand charges against the former Marine.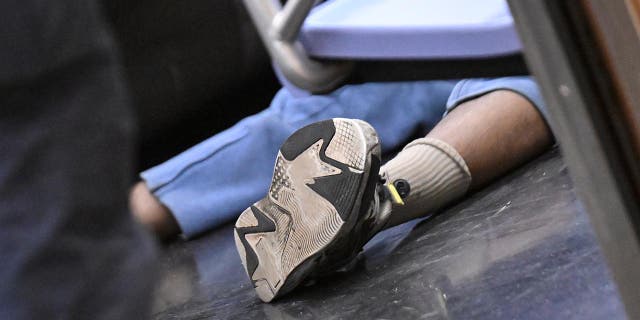 Legal experts previously told Fox News Digital that the alleged Good Samaritan-turned-vigilante could be indicted for second-degree manslaughter or criminally negligent homicide – both low-level felonies that require no mandatory jail time.
Former senior Manhattan prosecutor Joan Illuzzi-Orbon called the chokehold death a "difficult investigation" and cautioned against "politicizing" the tragedy. 
"At what point do we view him as a Good Samaritan versus someone who goes too far and takes the law into his own hands?" she previously asked. "I feel for both parties, I really do. Of course, the man who died paid the ultimate price."
CLICK HERE TO GET THE FOX NEWS APP
New Yorkers have grown increasingly frustrated with the overwhelming number of homeless people, who often suffer from mental illness, using the subway system as a makeshift shelter. 
Emmett Jones contributed to this story.