The Mercedes-AMG GT 63 S E Performance is a four-door coupe. It has all the bragging rights since it is the fastest Mercedes-AMG-badged series production car, period. First broke cover in the year 2021, the GT 63 S E Performance also signifies Mercedes-AMG's ideology to keep the momentum high in terms of technological growth. It is a plug-in hybrid hypercar with an F1-inspired powertrain, after all. Considering the Indian market, it is a little late to the party but better late than never. The India launch is scheduled for April 11. So, what are our first impressions of this piece of engineering? Read on to find out.

The GT 63 S E gets a nose that is very much a Mercedes but an AMG. The front radiator grille is large with a glossy chrome finish for vertical struts, flanking sharply styled headlamps on both sides. The bumper dons carbon fibre and piano black trim. It also gets functional air vents to cool down the brake rotors. The low-set bonnet is long. Complimenting it are the power lines.

If you thought that's where the drama ends. The answer is no. The front fascia is sketched to boast aggression, while the side profile is seductive. It makes grown men go weak on their knees. The coupe-style body shell further glorifies GT 63's design. Sprucing it up furthermore are wide wheel arches giving it an imposing stance. Rims measure 20 inches, but Merc gives the option to upgrade them to 21s with multiple designs of forged alloy wheels.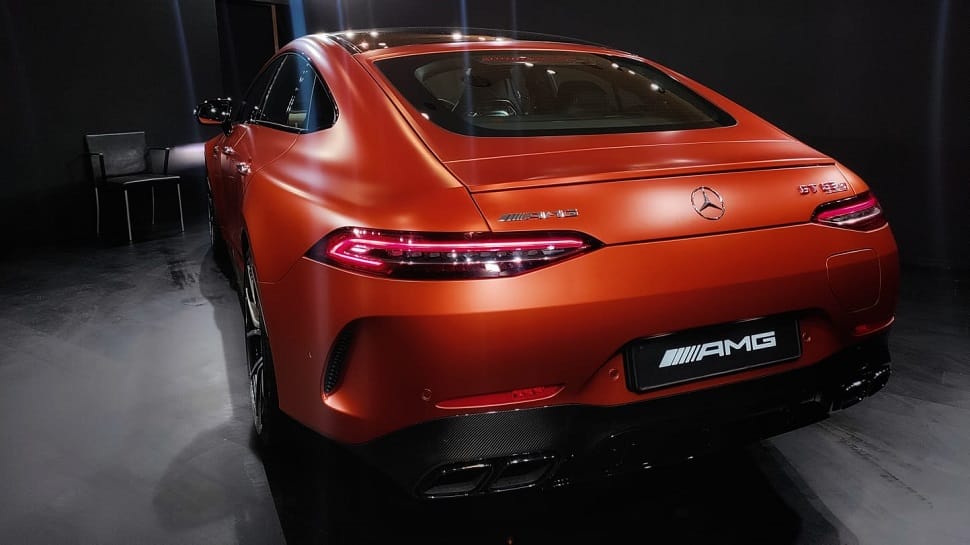 The rear fascia comprises slim LED tail lamps, along with a charging port for the battery pack. There is an electronically-operated spoiler as well, which makes the otherwise plain-jane-looking tail a wee bit dramatic. The splitter also does the same job. It is crafted with carbon fibre and flashy black trimmings. The quad exhaust tips preserve the dynamism, but they are sadly fake pieces of plastic. Actual exhaust tips sit behind them, and there are only two of them.

Mercedes-AMG GT 63 S E Performance: Interior
The GT 63 S E Performance will change your perspective about it from here onwards. Doors come with a soft-closing function giving an idea that the place you are entering packs opulency in abundance. The interior is trimmed with leather, and a dark theme comes as standard called Nappa Leather Black. Additionally, there are 13 other options. Also, you can choose between red and black seat belts, small electric sunroof or a large panoramic moonroof, and lastly, sports seats or performance seats.

Once done customising, the GT 63 S E Performance will still give you a familiar feel of other AMG models, which isn't a deal breaker in any sense. After all, the AMG steering wheel and the MBUX system are the best I've seen on any car in this space. The interior also gets Mercedes' famous ambient lighting system and Burmester sound system, checking the box for an amazing night drive experience. Also, there aren't many buttons on the centre stack – just the basic stuff.

The car showcased to us had higher-spec performance seats, which felt ideal for a car of this kind. They were comfortable to a high extent. In the second row, you get two identical chairs, kept at a distance with a centre stack in between them, housing a wireless phone charger neatly tucked under the armrest. The long wheelbase of 2,951 mm also ensures of enough legroom for two.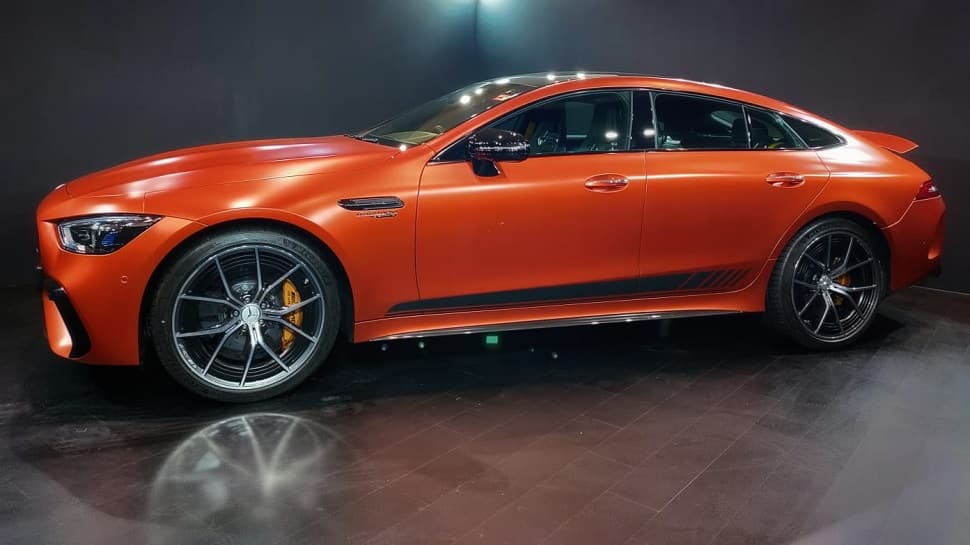 Also, there are dedicated AC vents and a touchscreen display to control various functions. On the whole, the Mercedes-AMG GT 63 S E Performance has a different character on the inside. It isn't as ferociously designed as the exterior. However, it will keep your soul charged but your body in utmost comfort.

Mercedes-AMG GT 63 S E Performance: Specs
Hiding under the long-imposing bonnet of the Mercedes-AMG GT 63 S E Performance is a 4.0L V8 with twin turbochargers and is coupled to an electric motor and a battery pack. The cumulative power and torque outputs stand at 843 horsepower and 1,470 Nm, respectively. The power is channelled via a 9-speed automatic transmission, and it uses a fully-variable all-wheel-drive system, which is largely rear-biased. This tech is F1 inspired, where the 6.1 kWh battery pack is used to draw power for acceleration. Although, it offers a usable range of 12 km on electric power alone.

Making it the most powerful series production car ever produced by the Mercedes-AMG, the P3 hybrid powertrain is nothing short of being called explosive. It helps the GT 63 S E Performance do a 0-100 kmph sprint in 2.9 seconds and a 0-200 kmph sprint in less than 10 seconds. The top speed is limited to 316 kmph.

Mercedes-AMG GT 63 S E Performance: In Summation
In the Mercedes line-up, AMG and GT are powerful words. But the inclusion of E Performance signifies that there is some alien tech in the car, designed to make it quicker and faster. Well, the PHEV architecture certainly makes the Mercedes-AMG GT 63 S E Performance the fastest production Merc ever. So, you buy this to have a lot of characters – Fast, Opulent, Fierce, Flashy and more. In the end, it will surely leave a smile on your face, while offering you endless bragging rights.